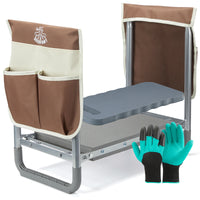 DEERFAMY Garden Stool 10.2" Width, Garden Kneeler and Seat Load Cap 350 lbs, Heavy Duty Gardening Stool with Extra Kneeling Pad, 2 Tool Pouches, Claw Gloves, Gift for Women Seniors, Brown
𝙂𝙖𝙧𝙙𝙚𝙣𝙞𝙣𝙜 𝙀𝙨𝙨𝙚𝙣𝙩𝙞𝙖𝙡𝙨: Ergonomically designed at a height, DEERFAMY garden stool ensures that you stay away from the hard and dirty ground and relieve the pressure on your back and knees while gardening.

𝙒𝙞𝙙𝙚𝙣𝙚𝙙 𝘿𝙚𝙨𝙞𝙜𝙣: Our Kneeler boasts a width of 10.2 inches, exceeding the typical 6-7 inch measurement of others. Enjoy greater knee protection with a larger surface area that ensures comprehensive coverage and unrivaled comfort.

𝙏𝙝𝙤𝙪𝙜𝙝𝙩𝙛𝙪𝙡 𝘼𝙘𝙘𝙚𝙨𝙨𝙤𝙧𝙞𝙚𝙨: DEERFAMY garden kneeler includes an extra EVA kneeling pad, a pair of digging gloves, and two tool pouches that easily hold various garden tools and water bottles.

𝙇𝙞𝙜𝙝𝙩𝙬𝙚𝙞𝙜𝙝𝙩 𝙖𝙣𝙙 𝙎𝙩𝙪𝙧𝙙𝙮: This foldable garden seat has a compact size, which can save storage space. Only 6 pounds in weight, this gardening bench is portable and easy to use. It is made of high-strength steel with a load capacity of up to 350 lbs.

𝙎𝙞𝙢𝙥𝙡𝙚 𝙄𝙣𝙨𝙩𝙖𝙡𝙡𝙖𝙩𝙞𝙤𝙣 & 𝙎𝙩𝙤𝙧𝙖𝙜𝙚: With simple and convenient installation and storage, anyone can complete the assembly within a minute.

𝙀𝙡𝙙𝙚𝙧𝙡𝙮-𝙛𝙧𝙞𝙚𝙣𝙙𝙡𝙮 𝘿𝙚𝙨𝙞𝙜𝙣: An extra EVA kneeling pad is provided to ensure blood circulation and reduce pain in the knee when kneeling. Armrests on both sides ensure that the elderly can stand up easier after long hours of gardening, making it an excellent gift for grandparents.

𝙎𝙚𝙧𝙫𝙞𝙘𝙚 𝘾𝙤𝙢𝙢𝙞𝙩𝙢𝙚𝙣𝙩: DEERFAMY garden kneeler and seat has 90 days of hassle-free return and exchange. If you encounter any problems during use, please contact us, and we will provide you with timely assistance.